Sustainable Smorgasburgh with Fireman Creative
This past weekend Fireman Creative teamed up with Sustainable Pittsburgh Restaurant to kick-off Sustainable Smorgasburgh! A celebration of Sustainable Pittsburgh Restaurants during the Re:NEW Festival, September 9 – October 9.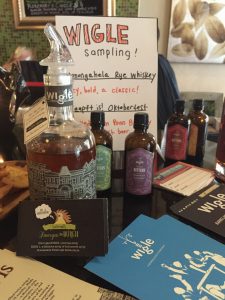 The kick-off event combined the sustainable practices of restaurant Nine on Nine, Wigle Whiskey cocktails, chalkboard art, and great conversations about Pittsburgh's transformation. Many people stopped by, tried Wigle Whiskey samples like O'zapftis, and hung out with friends and coworkers! Over the years Pittsburgh has continued to become greener; it's so exciting to see groups like SPR encouraging these practices. And who doesn't love great food made by sustainable restaurants?!

The Sustainable Smorgasburgh celebration continues through October 9th! Continue to dine out at sustainable restaurants, take pictures, post to social media with #sprsmorgasburgh and #itsamouthful hashtags, win prizes and have fun!
Stay tuned on Facebook, Instagram, and Twitter where we will be posting updates on all the fun!