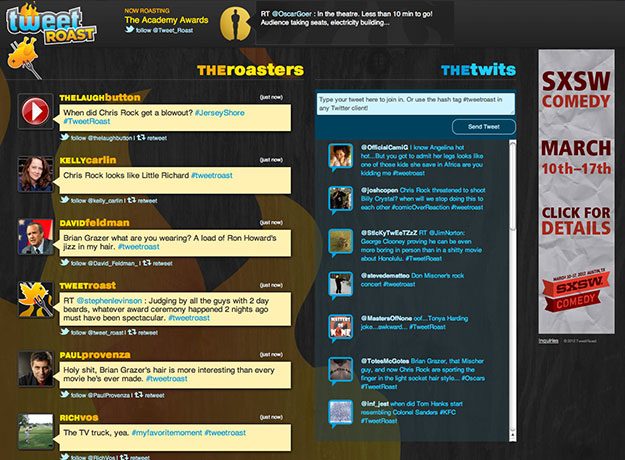 Web Design
Sparking Conversation With Fresh Ideas
Fireman Creative worked with Apostle, a TV and film production company based in New York and Los Angeles, to develop a unique platform for conducting online comedy roasts. Comments from the roast are syndicated to Twitter, and the site pulls in tweets from the general public. Roasts are scheduled around televised pop culture events and are designed to be a compelling second screen experience.
The site serves as a vehicle to promote both popular and up-and-coming comedians. The removal of the noise and busyness of Twitter allows participants and viewers to have a portal dedicated to following the roast, and serves as a compelling second screen experience.
During a roast in February 2012, TweetRoast saw participation from over 22,000 people on Twitter and over 35 popular comedians, including Dennis Leary, Dane Cook, Jay Mohr, Colin Quinn, Opie and Anthony, Adam Ferrara, and two leading comedy blogs.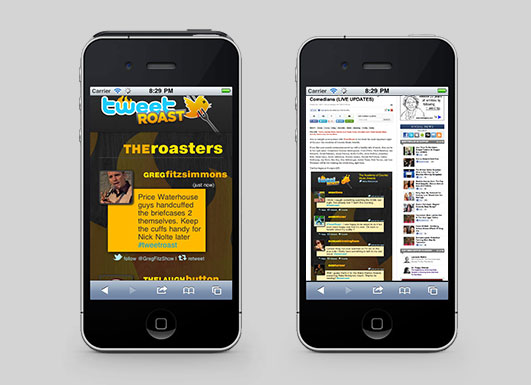 Mobile
Making it Mobile
The app was developed for mobile users as well, so that everyone had a chance to get in on the action!