2nd Annual What's the Point 0.5K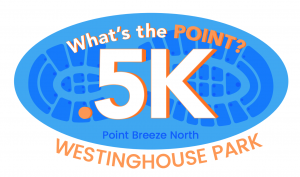 Fireman Creative was proud to organize and co-sponsor the 2nd annual What's the Point? 0.5K, "Pittsburgh's Shortest Race." Staged once again at Westinghouse Park in Point Breeze North (right down the street from the Firehouse), the race was a community success. Nearly 200 participants converged on the park to either run, walk or to cheer on their friends and neighbors. Local businesses including Dana's bakery and the East End Food Coop supplied refreshments for the Break Station in the form of doughnuts, coffee and bananas. Bowls of water were provided for participants' dogs who were also registered racers in the Dog Jog. Allderdice High School Band was at the finish line serenading finishers, some of whom were iconic Pittsburgh figures giant puppets including Mayor Peduto and George Westinghouse.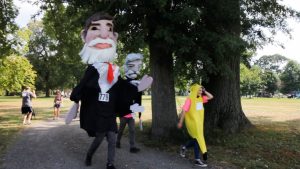 Besides being a fun, athletic event, local and environmental education was taking place. David Bear, community historian, had a display of pictures of the Westinghouse Estate that one stood on the park's grounds. Pittsburgh Park Rangers gave out doggie treats, leashes and cleanup bags while the Pittsburgh Water and Sewer Authority demonstrated DIY urban water collection. Fireman Creative partnered with Race to Zero Waste to make the race a Zero Waste Event. Our timing company even reused bibs from past races. Overall, the day was a success both in terms of community enjoyment and education. We look forward to next year's What's the Point 0.5K!