Life at Engine House No.16
The team at Fireman Creative has recently moved into our new space, Engine House No.16, at the crossroads of Point Breeze and Homewood, in Pittsburgh, PA. We took an abandoned engine house built in 1888, and renovated it to feature an open-concept floor-plan. We've equipped Engine House No.16 with a conference room, multiple work areas, and a kitchen. It also features a spacious and customizable street-front retail space. Along with our goal of maintaining historical charm, was a desire to prepare this piece of history for the future. The engine house still retains many details from its long and storied history of serving this historic Pittsburgh neighborhood, but now features new polished hardwood floors, framed artwork, smart-screens and wifi. Yes, we kept the two fire poles! Throughout the construction process, there was a concerted effort to build in an environmentally friendly and sustainable way, creating a perfect space for our creative endeavors … now and well into our future.
Keeping our past and future in mind, we enlisted the help of PPG paints for color advice in each room. We felt that walking through the Engine House should be a visual and emotional experience with colors and textures. Each room, the grand work space and the comfortable conference area, was to promote different feelings for employees and clients alike.
For the main open space, we wanted to create a welcoming and cheerful feel– what better way than with warm colors. As we began narrowing down our color palette, showcasing the polished pine floors became imperative. We settled on Waves of Grain, a creamy beige, but added an accent wall with a bright orange named Dynamo! As the light shines in the four large windows, a beautiful warm light illuminates the work space, allowing the wood grain on the floors and the beautiful plaster work on the ceiling to stand out.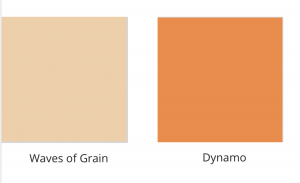 As you walk farther into the Engine House, original dark wood beams are revealed overhead. The space features our conference room and is readily used as a team workspace where we bounce ideas, show and critique work, and overall just have creative conversations. To facilitate such discussions the room required a different feel, something that exuded focus and connectedness among our team members and clients. We chose to go with colors that are cool and calming which also allowed the woodwork to shine. PPG chose a warm gray as the main color and an exciting blue, appropriately named 'Adventure',  as our accent. The combination offers a professional and calming atmosphere that allows our team an open, judgement free place to work with one another.
We are so honored to have this opportunity and we welcome all in the community to come visit the space!