Nate Taylor: Keeping the Creative in Fireman Creative at Three Rivers Arts Festival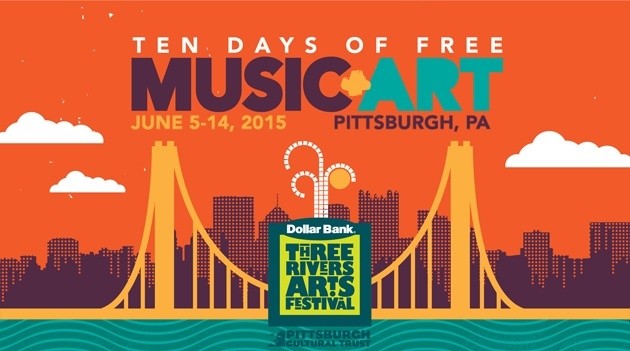 The annual Three Rivers Arts Festival is in full swing, kicking off last Friday with a rocking, headlining set by Jenny Lewis and wrapping up this weekend with performances by Neko Case and Benjamin Booker. Now in its 55th year, the Three Rivers Arts Festival is a free 10-day celebration of music and art in downtown Pittsburgh.
Fireman Creative's own Nate Taylor is once again gracing the Arts Fest with his drawings on display at Booth 122 this weekend, June 13-14. We caught up with Nate in between client projects to get a little preview of what to expect this weekend.
Where can we find you this year at the Arts Fest?
I'll be at my booth — booth 122 — from 9 to 8 this Saturday and Sunday. Hopefully there's no wind, rain, humidity or heat. Ideally there won't be any weather at all.
What are you showing this year? All new pieces?
As I was getting work together to exhibit, I became concerned that it was too bland — most of the art I'll be showing is in black and white. I was also worried that there wasn't enough of it. But after visiting the festival last Sunday, my fears have been eased. I think the black and white work will be a nice visual break for people coming to my booth.
Many of the pieces on display will be spreads from my most recent book, but much of the art will be recycled from last year. My biggest focus is on selling books — selling art doesn't really hold much interest for me. People will hang art up on their walls, look at it once, and completely forget that it exists. But people continue to think about the stories that they read long after they've put away their books.
Tell us a little about these books…
Well there are two books I'm currently working on that I would have liked to sell this weekend, but they're not done yet. I dream about having a bunch of books to sell, maybe twenty different titles. I'd have something for everyone.
How is the work you're showing this year different from last year? 
It's nice to look back a couple of years and see how much I've improved. It's reassuring. The work this year is the best I've done yet, but I know there's still a long way to go. For instance, I'd like to do more in color, and start doing pieces that are larger than the standard 8×8 square illustrations that I do for books. I think it would be neat to do a coloring book too, with sections for people to fill in the pages with their own artwork.
Is there a certain theme to the work you're showing this year? Or is it a Best of Nate Taylor? 
Whether intentionally or not, the theme of storytelling always seems to surface when I exhibit. I'm always trying to encourage people to tell their own stories, regardless of their ability. We need to experience both sides of storytelling, because it helps us understand each other more fully than if we are just listeners or just creators.
Kids are the best storytellers, because they are free to invent things without anyone judging them, and they don't have to unlearn the societal rules that are imposed on adults. No one has to tell them to make new narratives — they do it naturally, and with incredible originality and honesty.
How would you describe your work and your process?
For a while I was competing with other artists, trying to be the best on every front. That's a great way to get burnt out fast. Now, I'm still competitive, but I'm trying to do art that I enjoy instead of just aiming to be oppressive or intimidating. This serves several purposes: it keeps me satisfied with the work and driven to complete more books, and it gives me a better chance of entertaining my audience. After all, if I don't enjoy it, who will?
For many artists, their work is a private experience that has personal meaning for them. I don't feel this way at all. I'm usually thinking about how people, especially kids, will interact with the images I make.
Kids will look at art only if the content interests them, and that means there are lots of little details, characters are doing something, and maybe there is an undertone of menace or humor. One of my guiding principles has been to make art that kids can look at for a long time without getting bored. This becomes more challenging as a greater bulk of media becomes available to kids. I find myself competing with an animated Netflix series or video games for their attention, which is not an easy thing.
Lots of kids shuffle past my table with pale complexions, empty eyes and emptier heads. They look like they've lived on a couch, and I know it's too late for them. Donkey Kong got them. But there are always plenty of others who are interested, creative, and alive. These are the book-readers.
When children read books, they cast their own imaginary actors to play each character. When they read a picture book, they add motion and sound in their minds, more vividly and tangibly than anything that exists on a screen. This is the competitive edge that books have against videogames and movies.
I have to be smart about how I use that edge, building elaborate worlds that kids can be a part of and deep characters that they can relate to.
You recently had a gallery show, how was that? 
It was good. I made enough money to go out with friends later that night.
Catch Nate's work June 13-14 from 9 am – 8 pm at the Three Rivers Arts Festival. Full schedule here.