Rescued Fireman Boots!
Today we received recycled, vintage firemen boots from our good friend's PRC (Pennsylvania Resource Council). Some of our favorite past collaborations with them include, "The Crying Steelers Fan," as well as recycling and designing a veggie-powered van. (See picture below).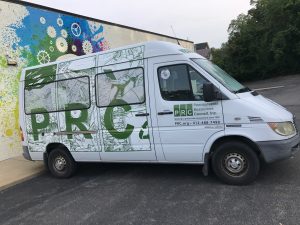 PRC rescued this heroic footwear from their non-profit, ReuseFest, at UMPC Children's Hospital located in Lawrenceville. It occurred Saturday, April 21st, where local residents could drop off their gently used items to be repurposed. The event also included their Reuse Market, where folks could purchase reused goods. This event first started in 2012, and we are happy to be supporting them on their mission!
Thank you for gifting us with these wonderful boots. We will proudly display them near our fire-poles as decorations and in honor of the brave men who fight fires.