Secret Act of Kindness
You found the hidden secret!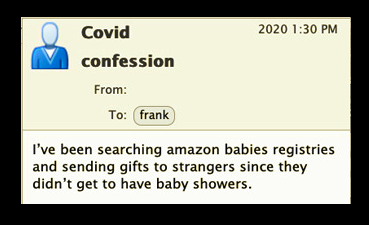 Fireman Creative has been working with PostSecret for over 10 years! We've built the PostSecret Live website and helped Frank produce many of his videos. Together, our mission is to turn ideas into stories that help others.
The COVID-19 Pandemic has affected change in everyone's lives. PostSecret has presented us all with the opportunity to anonymously disclose our struggles, successes and secrets that accompany our lives as we navigate this change. These secrets serve as a reminder that we are all in this together and we will all get through this together.
PostSecret and Fireman Creative wanted to highlight this secret as an easter egg because it radiates a message of hope; strangers being sensitive to others' struggles and anonymously helping one another. How could we better serve and love someone during this pandemic? A smile (even through a mask) could brighten someone's day, mailing a "thinking of you" card to your family, donating to an important cause, holding the door for a stranger, or asking a friend about their day on a Zoom call. We must remember that when we help others, it helps us too.
Your secrets have offered people a sense of community, hope, relief, and a moment to feel seen and understood. In making this video, we aim to strengthen that community and inspire kindness as we traverse these unprecedented times.
Visit activeminds.org/frank to learn more about upcoming PostSecret events.

Additional Videos we enjoyed producing with Frank Warren.
PostSecret: A Lifetime of Secrets – A Frank Warren Project
Soldiers' Secrets – Honoring our Service Men, Women and Families by sharing their stories mailed on their postcards
A Valentine Video  – Valentine Secrets
PostSecret Universe – A brand new, revolutionary multimedia experience including over 500 secrets, animations, audio secrets, and exclusive tour of Post Secret Headquarters and more.