Memorial Day: Honoring the Lives of Service Members Dedicated to Our Country
Memorial Day, originally known as Decoration Day, is recognized as a federal holiday honoring the men and women who died while serving in the U.S. military. We are honored to pay tribute to those who have lost their lives fighting for our freedom this Memorial Day. Thank you for your bravery, resilience and selfless dedication to our country.
PostSecret Soldiers' Secrets
PostSecret is one of the most successful blogs in the world with 7 Webby Awards and hundreds of millions of hits and counting. Fireman Creative partnered with its founder, Frank Warren, to produce PostSecret Soldiers Secrets to honor service people and their families by sharing their mailed postcard stories. The PostSecret project is unique in that it is entirely crowdsourced: people share their secrets anonymously on homemade postcards, and some of those secrets make it onto the blog and into videos. 
When Warren decided stories of war needed to be shared beyond PostSecret.com, he connected with Fireman Creative to produce the Soldier's Secrets video. In keeping with PostSecret's philosophy of crowdsourcing, he asked the community to help fund the video production via Kickstarter, a crowdfunding website. Crowdfunding enabled Warren to produce the video, and also helped him raise an additional $2000 for 1 (877) VET2VET, a suicide prevention hotline for veterans. All funding for the video, as well as a $2,000 donation to Vet2Vet came from the PostSecret Community.
PostSecret is the brainchild of Frank Warren, who more than ten years ago created the community art project by passing out 3,000 blank postcards addressed to himself on the streets of Washington, DC, asking strangers to send him a secret. Today, four million readers per month send in hundreds of thousands of secrets that are posted weekly on Sunday Secrets, published in six books, and now artfully displayed in an interactive app. Its interface alone is worth the cost of the download.
Fireman Creative has produced book trailer videos for Frank Warren's PostSecret book series, and continues to create videos tailored to subject matter that resonates with audience groups while raising awareness of suicide prevention and awareness. The trailers have garnered significant attention on YouTube, with some getting more than two million views. In addition to these book trailers, we have built the PostSecret Live website, a tool for organizations to book immersive multimedia PostSecret Live! events revealing the humor, heartbreak and humanity of our hidden stories for audiences at universities, performing arts centers, technology events, business conferences and non-profits. Warren's TED Talk "Half A Million Secrets" alone has garnered more than 6 thousand views. Fireman Creative also produced a video of Frank Warren's appearance at SXSW, South By Southwest and our video work in partnership with videographer Dave Forstate and WQED for the 30-minute PBS documentary The PostSecret Experience profiling Frank Warren and his work, earned the Fireman Creative team an EMMY and Golden Quill award. 
Observing Memorial Day
Memorial Day tributes will be held across America, honoring countless fallen soldiers who dedicated their lives for our freedom. The National Moment of Remembrance occurs at 3 p.m. local time on Memorial Day. Americans across our nation will pause for one minute to remember those who have served and lost their lives fighting for our liberties.
Memorial Day signifies the unofficial beginning of summer, with a three-day weekend, backyard barbecues, community events and parades. It marks a time to get together with loved ones, particularly war veterans, to listen to their stories and honor their service to protect our freedom. Better Homes & Gardens shares ways to pay respect, enjoy quality family time, and make meaningful memories with loved ones.
Blackberry Meadows Farmers' Grill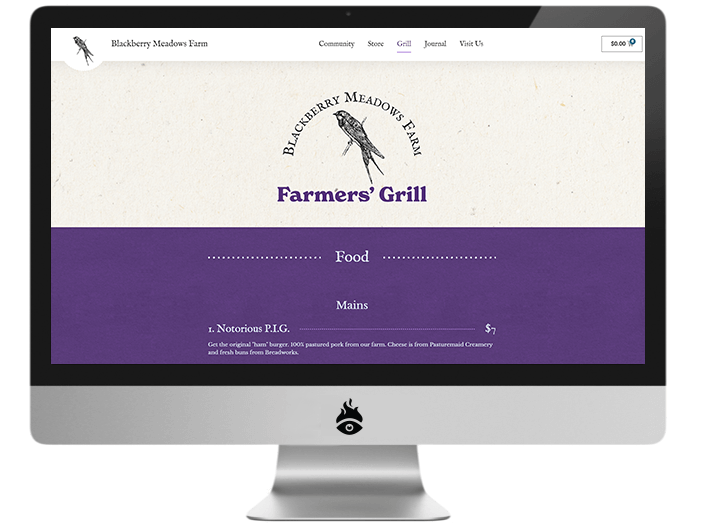 Backyard BBQ's and community events are a staple of the Memorial Day weekend.  Make a stop at Blackberry Meadows Farmer's Grill this Memorial Day weekend at the Northside Allegheny Commons Market Fridays from 3pm-7pm, the Squirrel Hill Farmer's Market Sundays from 9am-1pm and East Liberty Farmer's Market, Mondays from 3pm-7pm. All products are grown and made within 50 miles of our Blackberry Meadows Farm, most within 10 miles! All meats are raised humanely at Blackberry Meadows Farm in Fawn Township, Allegheny County, Pennsylvania.
Blackberry Meadows Farm grows healthy food while empowering individuals to support community agriculture by planting seeds and seedlings to grow in their very own CSA. Over the years they've added pasture-raised meats, eggs, and dairy to their operation. They're also developing a community kitchen to increase value-added goods for customers. Fireman Creative developed the Blackberry Meadows Farm brand logo, updated their website with new branding and messaging and improved the ecommerce platform by integrating it with the farm's accounting software for seamless online transactions. We are also assisting with the development of their business plan to raise funding for their latest venture, a Farmers' Grill, where they are putting the locally raised ham into hamburgers while generating local jobs for future farm growth.